Pre Could Arrive in Canada In August
Monday, May 18, 2009 9:17:20 AM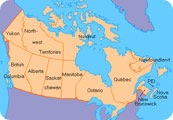 Recently we reported that Canada's Bell Mobility was slated to have exclusive Canadian rights to the Pre in the "second half" of the year. Now a rather encouraging new detail comes to us courtesy of the Boy Genius Report concerning the Pre's Canadian debut.
According to BGR, our friends in the Great White North may be able to score a Pre as soon as "early August", if all goes to plan. BGR states that the limiting factor for Bell will actually be how many Pre handsets Palm can supply. With Bell Mobility utilizing the same CDMA network technology as rival Telus and Verizon and Sprint in the States, Palm could theoretically certainly reach a large potential audience with their CDMA handsets if all of the aforementioned carriers eventually end up offering WebOS devices.
Leave a comment...
Click on the
Start New Comment button
below to begin a discussion.
You must be
registered
and
logged in
to add comments.