Palm Pre Demo Units Now Arriving in Sprint Stores
Friday, May 15, 2009 9:25:02 AM

Several online forums are chiming in with some interesting new Pre developments. Posters have confirmed various reports that Pre 'Advocate demonstration units' are currently arriving in Sprint stores nationwide. PreCentral has an update on this story as well.
IntoMobile are also reporting that the demonstrator Pre are under "strict lockdown" but are arriving in the finalized retail packaging. The units are not meant for public display but appear to be destined for use by specially trained Sprint employees. This, combined with the Pre video training podcasts that have trickled out over the past week, shows that Sprint is taking this handset launch very seriously.
SprintGurus' report indicates that training will begin for Mid-Atlantic region stores next week but that some stores have already received their Pre shipments and are also confirming the "lockdown" status.
One SprintGurus user, vicn77, even chimed in with a brief hands-on report. He mentions being a bit disappointed in the plastic housing and that the keyboard "…is a little small." Additionally, certain apps such as the calendar app "take a little longer to load", though the poster doesn't mention which device he is using for a comparison benchmark. One interesting bit is that the highly-lauded WebOS browser, based on the same WebKit core as Apple's Safari browser on the iPhone, reverts to most web sites' mobile versions instead of the full HTML versions. Overall, vicn77 states that the Pre is a "Great little phone with nice screen. Will this save Palm and Sprint, highly doubt it".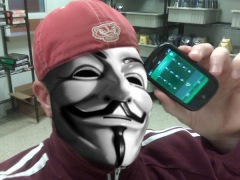 Engadget and various other sites are also reporting on some new pics of apparent Sprint employees showing off the working Pre models.
Additionally, aero, a TreoCentral forums member, also had some hands-on time with a Pre at a local Sprint corporate store. His impressions were: "Slider works well, keypad is about the same as Pro except with a slight smile curve, nice action. Did not get a chance to (play) much with the software, first few cards moved quite well. Snappy enough."
As always, most of these rumors are almost entirely unsubstantiated, but something is definitely in the works given the sharp rise in credible pics and leaks this week. Without anything to go on other than gut intuition, I have a feeling that we will finally have some tangible information from either Sprint or Palm sometime next week.
Article Comments
(27 comments)
The following comments are owned by whoever posted them. PalmInfocenter is not responsible for them in any way.
Please Login or register here to add your comments.