Palm Announces General Availability of the Treo 750 in Europe
Monday, February 05, 2007 8:29:36 AM
Palm today announced the Palm Treo 750 smartphone, previously available on Vodafone's 3G/UMTS network since September 2006 in the UK and across much of Western Europe, will be made generally available across Europe via Palm's online store and from retail outlets in the coming month, beginning Feb. 6. This move broadens the customer base that will be able to benefit from the Palm experience on Microsoft's Windows Mobile 5.0 operating system and adds HSDPA capability, underlining Palm's commitment to its European customers.
The Treo 750 combines the hallmark Palm experience of a multifeatured mobile phone with email, messaging, web browsing and organization software all in a compact design. The Treo 750 smartphone runs Windows Mobile 5.0 Pocket PC Phone Edition, offering users access to Outlook applications as well as the ability to view and edit Microsoft Word and Excel files and view PowerPoint and PDF files. The touch screen makes surfing websites, gathering data and navigating forms and applications much easier. The device will be compatible with 3G UMTS/HSDPA networks. UMTS/HSDPA is a global standard and natural 3G evolutionary path for GSM providers.
The Messaging and Security Feature Pack (MSFP) is available out of the box with the Treo 750 and includes Direct Push Technology, which gives users connected to a Microsoft Exchange Server fast, automatic wireless updates of their email, calendar items, contacts and tasks. It provides added security features for IT administrators, such as over-the-air password policy enforcement and remote wipe for lost or stolen devices. MSFP also gives users over-the-air lookup of a company's Global Address List (GAL), providing employees with quick access to colleagues' email and contact information. The Treo 750 offers mobile professionals other corporate email options, including streamlined access to Microsoft Exchange.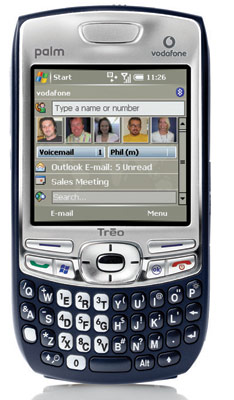 Unique to the Treo smartphone on Windows Mobile is a suite of software enhancements developed by Palm that underscores its brand promise of fast access, ease of use and simplicity. Examples include the following:
-- Threaded chat view for text and MMS messages;
-- Today Screen enhancements, which feature the ability to "dial by name" with a few keystrokes on the keyboard, perform a web search directly from the Today Screen and perform one-touch dialing with personalized photo speed dials;
-- Ability to manage a call directly from the Today Screen and stay on top of voicemail with on-screen, VCR-like icons, such as rewind, delete and fast-forward controls for easy navigation; and
-- Capability to ignore a call and quickly send a text message such as "In a meeting" or "Can't talk right now" by selecting the "Ignore with text" option from the incoming call screen.
Treo 750v Specs
The Palm Treo 750v runs Windows Mobile 5.2 Pocket PC edition. It is powered by a 300MHz Samsung processor and has 128MB nonvolatile flash memory (60MB available for storage). The display is a 65k colour, 240 x 240 pixel touch screen. It also has integrated Bluetooth 1.2 wireless technology. It has a new side mounted mini-SD memory expansion and a 1.3 megapixel camera with 2x digital zoom. The battery is a removable 1200 mAH Lithium-ion, good for a claimed 4.5 hours GSM / 2.5 hours UMTS talk time, with 10 days standby time.
It has dimensions of 111 mm x 58 mm x 22 mm (4.4" x 2.3" x 0.8" inches) and weighs in at 154 g (5.4 ounces). The casing is slightly slimmer than the 650/700 series and the casing has a "soft touch" paint finish.
Article Comments
(1 comment)
The following comments are owned by whoever posted them. PalmInfocenter is not responsible for them in any way.
Please Login or register here to add your comments.